Holden Messenger is a supporting character in The Heir. He was chosen for Princess Eadlyn's Selection.
Biography
Edit
Holden talked to Eadlyn at her Garden Party after he escorted Eadlyn away when she was having a conversation with Kesley Timber which upset Kesley.
He was eliminated along with Kesley after the Garden Party.
Features
Edit
Holden has glasses perched on a distinguished nose.
He is proud to be a mama's boy.
He admires a woman who knows what she wants, and he liked that Eadlyn was assertive.
His interview was his first time to be on TV.
He always believes on what his mom says.
His mother is the head of a lab in Bankston.
The actor portraying him is Chris Jehnert.
Meet Holden
Edit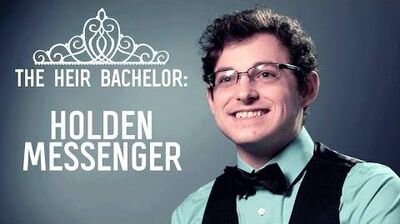 Ad blocker interference detected!
Wikia is a free-to-use site that makes money from advertising. We have a modified experience for viewers using ad blockers

Wikia is not accessible if you've made further modifications. Remove the custom ad blocker rule(s) and the page will load as expected.